Frederick Window Tinting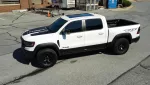 Business Name:
Frederick Window Tinting
Business Description / Hours:
Frederick Window Tint is a family owned business. We have 15+ years in the automotive window tint industry. We have worked with all the major brands.
We tested and compared the performance nearly a dozen different films in the industry and the clear winner was Rayno which we found to outperform every other film in its respective class across the board. Rayno was also the first manufacture to develop a Nano Carbon Ceramic Film.