BK Juices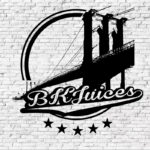 Business Description / Hours:
BK Juices was started in 2021 with the mission to bring love and health awareness to the community by offering cold-pressed juices, hand-crafted smoothies, and healthy alternatives. While trying to find ways to stay healthy with all we've experienced living through a pandemic; the dream became a reality.
BK Juices serves gourmet roasted coffees, cold-pressed juices, and home-made smoothies and along with healthy eatery options. BK Juices has a little something for everyone on the menu! Complementing the menu, we also offer gourmet paninis, smoothie bowls, wellness shots and an array of supplements. BK Juices is the perfect stop for breakfast, lunch, snacks, and dinner.