Crestwood Oakes Child Care & Camp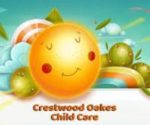 Business Name:
Crestwood Oakes Child Care & Camp
Business Description / Hours:
Camp Eagle
Outdoor Activities
Our popular Summer Camp offers all-day outdoor activities that enriches kids lives and provides an active escape to boredom.
Swimming: Children from 5 years
Swimming develops the whole person: spirit, mind, and body. In swim lessons, we use a combination of fun methods to help kids overcome fears, build confidence in the water and develop skills that last a lifetime. Swimming lessons are offered on-site under the careful instruction of a Red Cross certified swim instructor.
Horse Riding: Children from 5 years
Crestwood Oakes offers horseback riding classes, including how to properly care for horses.
Tennis: Children from 5 years
Basic skills are taught using age-appropriate equipment including special balls, ten and under court lines, and smaller racquets, while emphasizing fun and cooperative learning.
Zip Line/Rock Climbing: Children from 5 years
We have a zip line on location that kids get to enjoy under the direct supervision of trained personnel. This activity is offered weather permitting.
About Us
Located on almost 10 acres in Southern Frederick County, Crestwood has been growing positive, successful, happy children for 46 years.