Frederick Auto Detailing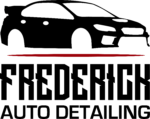 Business Name:
Frederick Auto Detailing
Business Description / Hours:
Frederick Auto Detailing is a locally owned and operated company. We offer a variety of services; such as convenient car washes, carpet and seat cleaning, leather seat detailing, odor removal, interior auto detailing and full interior/exterior details, paint correction, polishing and ceramic coatings.
We are a IGL Coatings Authorized Detailer and IGL Kenzo ceramic coating authorized installer.
At Frederick Auto Detailing we believe that owning a car is more than driving from A to B. Driving a car is an experience and investment that needs to be cared for.
We work with owners to understand the process and importance of auto detailing.
We looking forward to working with you!
Monday – Friday: 9AM-4PM