Little Dog Bookkeeping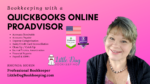 Business Name:
Little Dog Bookkeeping
Business Description / Hours:
Certified QuickBooks Online Bookkeeper ProAdvisor for Small Businesses
I am a professional QuickBooks Online bookkeeper who supports entrepreneurs & small businesses by helping to restore passion & energy in your business by outsourcing your bookkeeping to me.
I specialize in bookkeeping. That's it, it's what I do! And working with me allows you to focus on what YOU do!
Did you REALLY start your business to be stuck in the office pushing papers & tracking down receipts?
No!
You started it to help people & to create a better quality of life for yourself & your family. So, why are you still reconciling your bank accounts & coding expenses?
Isn't your time better spent growing your business?
• Do you need bookkeeping services once, weekly, monthly or quarterly? Every business is different therefore every proposal is different.
• Do you need payroll services? How many employees do you have? Under 5? Great! Over 5? Even greater! I can help!
• Use 1099'd contractors? Keeping the dates spot on can be difficult & COSTLY!
• What about customized reporting so you know where the revenue you worked so hard to earn is going?
• Do you need customized chart of accounts so you can keep track of various properties or special projects? I love being creative to help show you where your money is being spent & how your profit is being generated!
Bookkeeping Software:
I work with QuickBooks Online because it gives you REAL TIME access to your data at your fingertips, no matter where you are – in your office, on your phone, at a clients home or office, or on a mountain top enjoying the view.
I begin EVERY new relationship with a QuickBooks CheckUp. This allows us to see your business & where you are in your bookkeeping. It gives you insight into clean up that might need to be done or work that needs caught up.
Don't use QBO yet or use QuickBooks Desktop? If you use another version of QuickBooks or a different software I can help transfer your bookkeeping to QuickBooks Online.
How I Can Help:
Your business is as unique in what you do & what you offer as the breeds of dogs in the world. Below is a quick general list of the types of services I offer & how I can help you.
I specifically support insurance agencies, short & long term rental owners, therapy related professionals & small businesses!
• Categorization of all transactions so you know its all been completed
• Reconciling bank accounts, credit cards & loans so you can be sure the numbers are right
• Monthly reports to help you understand the numbers & make powerful decisions
• Entering bills & expenses, attaching invoices & receipts so you know exactly what is due when (Accounts Payable – Vendor Billing, Bill Posting & Payment by Checks)
• Entering customer invoices, payments & deposits so you always know who has paid (Accounts Receivable – Invoicing Customers, Customer Payment Posting & Collections Workflows)
• Monthly Depreciation of Fixed Assets & Journal Entries to keep your accountant happy
• Customized Reports: AP & AR Aging, Income Statement, Balance Sheet, Reconciliation Detail, Chart of Account & Transaction by Vendor & Statement of Cashflow
• Payroll through a specialized vendor so you can spend your time working your business (Federal, State, & Local Payroll Tax Filings, Year-End W-2s & 1099 Processing)
• Helping with "catch" up or clean-up so you have a clean start
• Periodic updates so you can run your business in real time
• One-on-one planning & accountability sessions so that ALL of this makes sense to you
• Email support for those nagging questions at 3AM
• Document Organization so you can find that bill or invoice or client contract
How I Specialize:
Small Businesses & Entrepreneurs: all businesses might need custom workflows for processing bills & payments, invoices & client payments, sales tax, payroll tasks & monthly reconciliation so tax time is easy!
Insurance Agencies & Agents: keeping direct bill & commission income accounts separate & reconciled, producer payables & help to post commissions & pay producers using agency systems.
Short & Long Term Rentals: either custom designing a specialized chart of accounts or use class tracking so you will know exactly how much each property is costing & making.
My Qualifications:
• QuickBooks Online Certified ProAdvisor
• Bookkeeper Launch Course Completion
• Member American Institute of Professional Bookkeepers
• Bachelor of Science, Colorado State University
• 25 Years Business Ownership
• P&C Licensed Insurance Agent VA, WV, MD
Here's How To Work With Me:
1. Schedule an initial consultation so we can do a QBO CheckUp
2. Invite us as an accountant to QuickBooks Online to do the QBO checkup
3. Select your customized package that will service your business best
4. Enjoy Ongoing Bookkeeping Services
To get started contact me via my website https://littledogbookkeeping.com
I am open Monday thru Friday from 8 AM to 6PM. If you need an appointment time outside office hours I am more than willing to help you with a customized time.