Brunswick Crossing Animal Hospital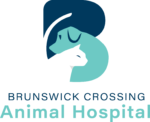 Business Name:
Brunswick Crossing Animal Hospital
Business Description / Hours:
What pet doesn't want special treatment? Our hospital is designed to provide a fear-free, low-stress environment for all pets! We have cat-specific rooms for extra comfort, state-of-the-art examination techniques, and lots of fun toys.
We offer a calming, caring atmosphere that feels just like home. We believe in extended, no-rush visits tailored to your pet so we can actually talk with you…not at you.
At Brunswick Crossing Animal Hospital, our mission is to strive for excellence in all we do: professionally, personally, and within the community. Our unparalleled knowledge and continuous innovation results in world-class service and exceptional care for pets throughout their lives.
Busy life? We get it. We utilize modern medicine to give you and your pet exactly what you need, when you need it, including drop-off appointments and daycare options that fit your schedule.
Already a client? Our telemedicine consults may be a great fit!
Ask about our Window Service! Maintain social distancing guidelines while still being a part of your pet's exam!
Monday 7AM–6PM
Tuesday 7AM–6PM
Wednesday 10AM–5PM
Thursday 7AM–6PM
Friday 10AM–5PM
Saturday 9AM–12PM (every other)
Sunday Closed